Math tutoring and online assignment help is a lucrative business with costs that often build up over the years. Coming from a low-income family, StudyPug.com is a godsend to all those children, who are currently struggling with math. We heard about the website from a friend and we decided to check it out.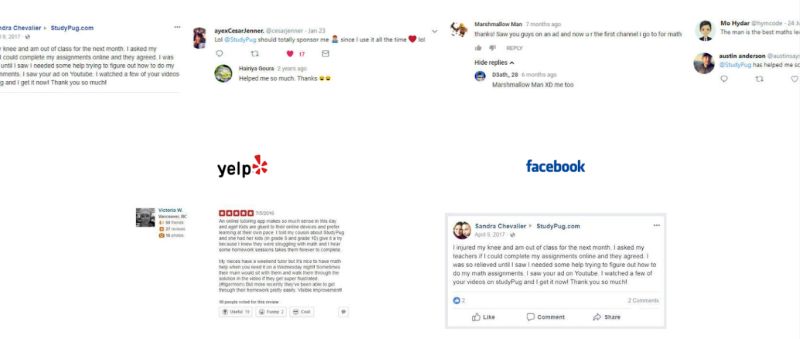 The amount of credentials posted on the homepage is reassuring and the offered courses are vast and cover a wide array of topics. Each one is organized by grade level specific to different countries, such as Canada, Ireland, Singapore, and New Zealand. There is also college-level courses and Advanced Placement. The cost is affordable as well – less than $150 a year, whereas a personal tutor is $40 an hour. $150 can't even pay for a month worth of lessons, let alone a year.
Although the reviews and testimonials helped us, we couldn't help but feel a bit lost. There isn't anything to explain what StudyPug is or their objective. It is common sense, yes, but having an introduction will be beneficial.
Once you bypass the sales pitch and reach the homepage, the site becomes less intimidating. Although the same images are used, there aren't many price tags thrown around.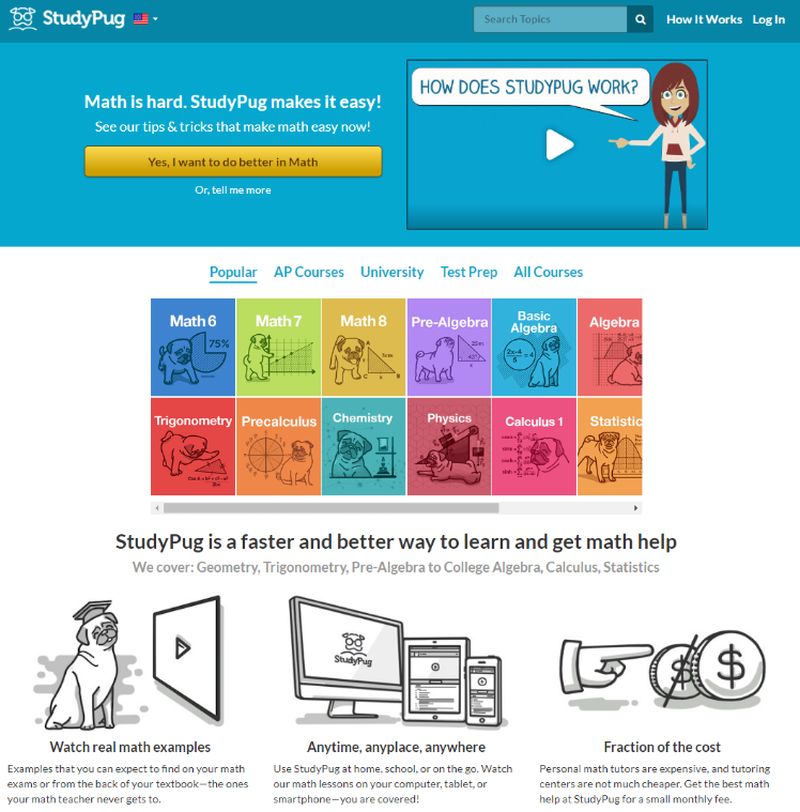 For example, anyone in his or her eighth grade would be able to benefit from the provided topics available. Here is the list of eighth grade topics: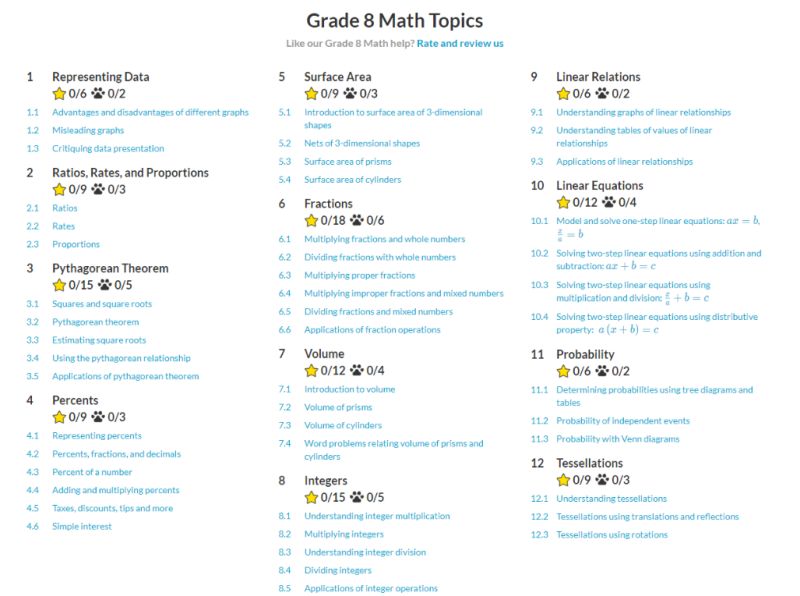 Easy chapters to help children learn math
All of these are covered and more in the current curriculum. Each link can be hovered over to reveal the first question for students to determine their level. Furthermore, each topic has multiple video lessons focusing on different aspects. Anyone struggling with fractions may go to the fraction chapter, to be greeted with an array of topics from reducing fractions, multiplying, adding, subtraction, and more.
In addition, there are also practice questions and a motivational pug in the corner to cheer you on. Also, as another motivational tool, is the number of correct answers and stars on the main page. As their numbers increase with every lesson, students are sure to gain more confidence and tackle more difficult content.
The videos themselves are short and cover one aspect each. The tutors don't go off on tangents, make unnecessary comments, or deliberately confuse the viewer. No, these tutors know you're there for math help and they deliver it using plain and simple words.
Finding your way around the site
At first, navigating the site can be tricky. The entire homepage is a sales pitch and finding the free lessons require reasonable amount of snooping. Fortunately, the sitemap is a comprehensible list of everything the site has to offer, as well as a search engine. Both are excellent methods to find what you need, even though it takes a while to get there. The sitemap does not list which topics have free lessons, but majority of them will have one. The more advanced topics, such as physics, do not. We feel having the introductory topics made available will broaden the audience more.
A feature that we quite enjoy reading through is the glossary. The list of terms and definitions is well-written and is an excellent way to review concepts without having to sign up.
StudyPug's mobile app
There is also a mobile app. It is free to download, but without a subscription, the app has no use for anyone else, as all content is locked. This explains the reviews it has, so we suggest adding a note in the description about this, or, perhaps, displaying a limited number of free lessons for people to try out before considering purchasing a subscription.
There aren't any practice problems available on the app, but all videos are.
However, if you were to access the site through the Internet browser, it is basically the same as the desktop version, just condensed.
The motivational pug is also there to nudge you along with every correct answer.
A final note
StudyPug is an affordable tool that benefits all students, no matter where they are or what level they're at. As the students' confidence may increase tenfold, paying for the yearly subscription does not hinder your finances, unlike one-on-one tutoring. The only drawback we will mention is that there is no option to contact the tutors for additional clarification or making small suggestions. However, the simplicity and straightforward method of learning is present and we highly encourage all parents to give it a try. All children deserve to conquer math and StudyPug is an excellent resource for that.
Article Submitted By Community Writer